6 Spots have opened up for this event!!
Please email [email protected] for information. 
When: Saturday December 2nd 2023 2:00pm to 4:30pm
Where: Peconic Baykeeper Office 167 Red Creek Road Hampton Bays
Workshop is free. Registration Required
Join Peconic Baykeeper and UpSculpt for an afternoon at the intersection of art and conservation!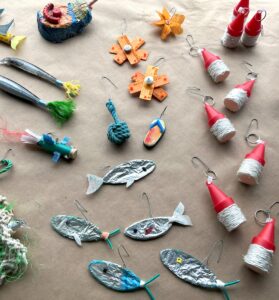 This holiday inspired UpSculpt workshop will feature ornament making that will depict native Long Island fish species from 100% marine debris. These small creations allow us to consider the impact plastic has not only on the environment but creatures we share the environment with. This is a great opportunity to get creative and challenge yourself to use a unique medium for artistic expression while preventing marine debris from entering the waste stream. Join us in creating sustainable holiday decor while learning about marine debris and the importance of up cycling in the cozy setting of the Peconic Baykeeper office in Hampton Bays.  This workshop is free but registration is required and families are welcome. Light holiday refreshments will be served.
Please register here.
This program

is made possible with funds from the Statewide Community Regrant Program, a regrant program of the New York State Council on the Arts with the support of the Office of the Governor and the New York State Legislature and administered by The Huntington Arts Council, Inc.
More on UpSculpt.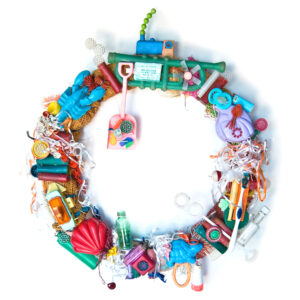 UpSculpting brings us together to have fun creating beautiful art while exploring a brighter, cleaner future. UpSculpt was founded by North Fork artist Cindy Pease Roe with the mission to empower action against the crisis of plastic pollution by engaging the public through art, science, and educational workshops.This workshop will be led by local artist Bri Sander, UpSculpt's Director of Education and Community Outreach.
IG: @upsculpt
Website: upsculpt.com