Horseshoe Crab Monitoring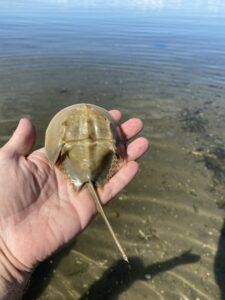 Peconic Baykeeper partners with the Long Island Horseshoe Crab Monitoring Network  help monitor current populations of this imperiled species.  This program monitors important spawning sites for horseshoe crabs (Polyphemus limulus) throughout coastal New York. Having survived relatively unchanged for hundreds of millions of years, these "living fossils" are becoming less abundant throughout Long Island as they face threats from commercial harvesting and habitat loss from coastal development. Horseshoe crabs play a vital role in the health of our marine ecosystems as "keystone species" with their eggs being an important food source for threatened and endangered migratory shorebirds and other wildlife. Horseshoe Crab blood is also an invaluable tool to the pharmaceutical industry as it has clotting properties that identify contamination quickly and effectively.
2023 Monitoring Program
Peconic Baykeeper will be partnering with the South Shore Estuary Reserve to monitor a known spawning site for Horseshoe Crabs off Meadow Lane in Southampton, NY with counting and tagging activities taking place during full and new moon tides from early May through early July. Data generated from the survey will be used to drive better management for this species including advancing coastal conservation. For more about this program, click here!
How Can You Get Involved?
Peconic Baykeeper is currently looking for a few dedicated volunteers to support us with the 2023 horseshoe crab monitoring survey season. Surveys take place on evenings from early May through early July with around the full and new moons and take approximately 1 hour. Please contact [email protected] to learn more! Ideal volunteers will be able to commit to multiple sessions (of 15 total) during the survey season.
---
---