---
Report Pollution
Bay area residents and water sports enthusiasts are often the first witnesses of sewage spills, wetland filling, algal blooms, fish die offs, unauthorized fencing of public shorelines, or other actions that harm our estuary ecosystem. If you witness or encounter pollution, you can report it to Peconic Baykeeper for investigation by submitting a pollution report here! This new pollution report through Survey123 will help us track and map pollution reports across the Peconic and South Shore watersheds!
Questions: (631) 653-4804 or [email protected].
Please include the date, location, and a description of the incident, as well as your name and contact information. Reporting pollution to PBK can help provide an evidentiary connection between pollution and animal die offs and habitat destruction, or alert PBK and the authorities to a potential toxic situation.
For instructions on how to use the survey's map feature, click here.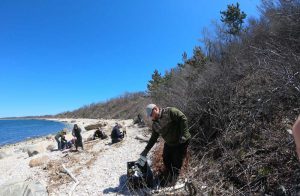 Other Helpful Resources
Suffolk County Office of Ecology
Call to report algal blooms
(631) 852-5800
Wildlife Rescue Center of the Hamptons
Wildlife rehabilitation
(631) 728-9453
Riverhead Foundation for Marine
Research & Preservation
Marine mammal and sea turtle rescue and rehabilitation
(631) 369-9840